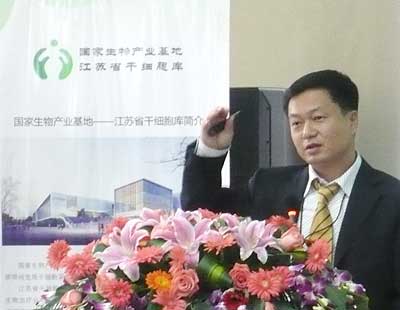 Taizhou, Jiangsu, China, 7 April 2009 – Jiangsu government's China Medical City (CMC) and Shenzhen Beike Biotechnology Co. Ltd. (https://www.beikebiotech.com) broke ground on the 20,000 square-meter Stem Cell Regenerative Medicine Industrial Project of National Bio-Industry Base (NBPD). This facility will house China's first comprehensive regenerative medicine technology center and its largest international stem cell bank.
The NBPD facility is part of multi-stage project that consists of industry partnerships aimed at providing a central research zone for China's regenerative medicine and bio-medical industry. Groups associated with this biotechnology incubation joint-project include those from Fudan University, Huazhong Science and Technology University, Nanjing University Medical School, Jiangsu University, Shanghai Jiao Tong University and Jiangsu Provincial People's Hospital.
Mr. Chen Zhu, China's Minister of Health, sent a letter of support that was read at April's ground-breaking ceremony. In his letter he stated that biotechnology is China's fastest developing technology, and stem cell research promises to improve the quality of life for people everywhere. The NBPD program was created to improve the understanding of stem cell technology and facilitate China's development as a world leader in the biotechnology industry.
Located in the heart of Taizhou and occupying more than 20 square kilometers, the CMC district enjoys investment privileges as well as full support from the local, provincial and national governments. CMC is quickly becoming a world center for biotechnology due to the geographical concentration of medical services and manufacturing, effectively increasing research efficiency and streamlining production.
Jiangsu's Minister of Health Guo Qinghua explained Beike's role in the NBPD project saying, "Beike is Jiangsu's leading stem cell biotechnology company and can easily take on the task of building the NBPD. This project is set to become China's largest stem cell research center." Shenzhen Beike Biotechnology was selected as CMC's partner to build, develop and operate the NBPD project.
The new stem cell processing facility includes four centers. The first is the Stem Cell Technology Transfer Center where leading scientists can collaborate and transfer their research to the clinic. The second is the Stem Cell Bank, which will be the largest stem cell bank in Asia with the capacity to store one million samples and facilities for a commercialized iPS bank. The third is the Testing Center, accredited to test the purity, safety, potency and stability of stem cell products. The fourth is the Clinical Technology Service Center, which interfaces the stem cell processing base with hospitals, distribution paths, and offers clinical support services to analyze the outcomes of the stem cell treatments.
Dr. Sean Hu, chairman and CEO of Beike Biotech, praised China Medical City's foresight to develop fertile ground for stem cell technology development both from a regulatory and a funding standpoint. Dr. Hu states, "In the 1970's the US government provided the intellectual property support and venture capital companies offered the funding that allowed the US to leapfrog past Europe to become the leader in biotechnology and pharmaceuticals. China's Medical City is now doing the same and we are starting to see the results of these efforts. Beike feels honored to be able to help China Medical City fulfill its mission of making China the world leader in clinical stem cell technology."
In June 2008, Beike Biotechnology Co. Ltd. opened an 1,800 square-meter stem cell bank in Taizhou, capable of storing 100,000 samples, marking the first phase in the NBPD development process. The stem cell bank currently contracts with major hospitals to store stem cell material and provide finished stem-cell products to patients throughout China and abroad.