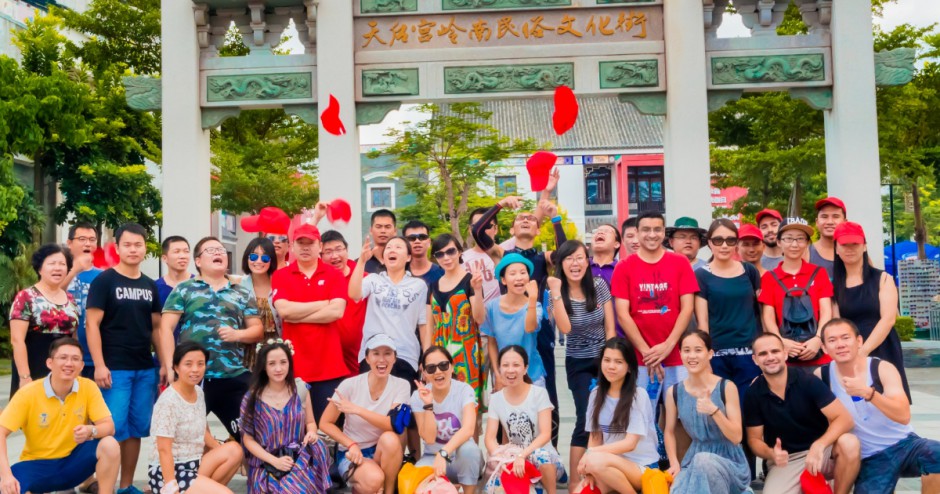 Recently, Beike Biotech celebrated the 10th anniversary of our incorporation by having a corporate retreat to Huizhou, China, a beautiful coastal city just a couple hours Northeast of our headquarters in Shenzhen. Below is intern Ryan Paw's experience.
"I didn't know what to expect when I filed into military formation at Beike's company trip in Huizhou. As a foreigner whose limited vocabulary in Mandarin consists of "nĭ hăo" and "xièxie," it was difficult to decipher what was going to happen next throughout the trip. My emotions were sporadic after each activity we were introduced to. Confusion, attentiveness, but ultimately, cultural awareness increased my curiosity of learning things I would have never experienced in America. From the competitive team building exercises to the relaxing beach barbeques, Beike's 10th anniversary was a trip to remember.
"Upon arrival, I immediately knew it was going to be difficult to adapt to our new accommodation when I saw our host's outfit: camouflage pants, combat boots, and aviator glasses. We were lead by the drill sergeant as we marched our way to a large, concrete gazebo, where we created teams for the activities. My minimal Mandarin skills made communicating with my team difficult, but I was blessed to have some colleagues speak English to explain the directions. Competition against other teams pushed us to strategize for each game. Critical thinking helped us pursue the most efficient way to beat our opponents. Teamwork brought us closer together. Every victory felt more rewarding when our teammates ecstatically supported us.
"One activity used two wooden planks, which had 6 people standing with each of their feet on each plank. Each team had to coordinate with their team members to successfully move their feet, while on the planks, in synchronization to get to the other side. Mandarin wasn't a necessity in this game. We shouted "One!" to move our left legs together and "Two!" to move our right legs together. Within minutes of collaborating together, we turned into a moving steam engine on wooden planks chanting, "One! Two! One! Two! One! Two!" We were exhausted, but we all smiled when we saw everyone else trailing behind.
"We wrapped up the day with a barbeque at a café on the beach during sunset. Every table was given their own barbeque grill with its own assortment of meat and vegetables. I learned grilling techniques, tasted Chinese barbeque, and even memorized some classic Chinese songs. As the night got darker, we created a massive bonfire made out of dried bamboo that lit up a section of the beach. The intimate environment helped us get to know each other in a way that wouldn't have been possible in the workplace. Even though I recognized some of my co-workers who sit only a couple of cubicles away in the office, the trip was the first opportunity where I could talk to them. Each team was then designated a routine which they had to perform in front of everybody next to the bonfire. My singing and dancing skills were tested as I performed the Disney hit, "Let It Go" from the movie Frozen. Judging from everyone's enthusiastic cheering during our performance, our dance moves were too much for the crowd to handle.
"Beike's company retreat helped me break the language barrier to meeting new people in the workplace. I may not have understood what everyone was saying, but I understood the emotion that was put into the activities and conversations. Friendship is an international language. I didn't need to master Mandarin to call my colleagues my new friends."
Ryan Paw is currently working as an intern in Beike Biotechnolgy's Business Development department as a Biotech Product Analyst. A Senior at University of California, Merced, Ryan is currently pursuing a Bachelor of Science in Bioengineering with a minor in Management. He is interested in the business and research side of engineering and likes to work hands on with clients.