Stephen Hawking is well known as a master of science and also a source of inspiration to millions. He recently opened an account on Weibo, a microblogging social network in China similar to Twitter! On his profile, Hawking said, "I hope to tell you more about my life and work through this page and also learn from you in reply." The over-excited Chinese fans rushed to leave messages such as, "Can you help me solve this physics problem?," "Do aliens really exist?," "On your [account] I feel like I'm connecting to the universe!"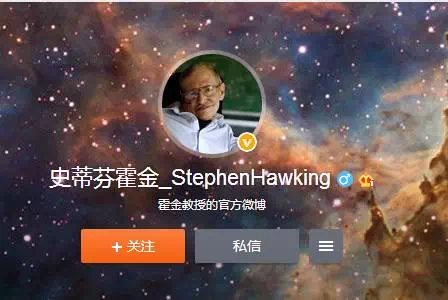 The latest demonstration of his popularity in the China was his immediate influence on social media, just like a pop star. Within six hours after his Weibo debut, the famed physicist accumulated 300,000 followers. Hawking's charm lies not only in that he is a legendary physics genius, but also because he lives an admirable life. His pursuit of science and brave personality attract everyone who knows him.
Besides these questions of physics and science however netizens should be interested in another aspect of Hawking's life. In January of 1963, Hawking was diagnosed with a currently incurable condition known as amyotrophic lateral sclerosis or more commonly ALS. Doctors told him that he could only live for two years, but he has proved them wrong for some time. ALS is a progressive neurodegenerative disease. It affects the nerve cells relating to motion in the brain and the spinal cord causing death of motor neurons. Therefore the brain cannot control muscle movements and the muscles will atrophy due to lack of exercise leading patients to paralysis. In other words the body will gradually be 'frozen.'
Motor neuron disease as a neurological, chronic, and fatal neurodegenerative disease. Until now there is still no cure despite the vast amounts of research. However, with the progress of science and technology, stem cell treatment for spinal cord injury, cerebral palsy, traumatic brain injury and other relative diseases has become a frontrunner with initial success in various nervous system disease. The studies demonstrated that stem cells can improve and repair the structures and functions of the nervous system which provides a new direction for the treatment of ALS.
In 2011, the U.S. Food and Drug Administration (FDA) approved stem cells to be used for clinical application of ALS. Many ALS patient's symptoms improved after stem cell treatment. Their muscle atrophy was getting better and their muscle strength was increased which prolonged survival. Stem cell therapy is the most effective treatment for ALS currently. Although it is not a cure for ALS, it improves the quality of life of patients with ALS significantly and can delay disease progression. The FDA specified a stem cell product NurOwn as the drug to be used in the treatment of ALS.
In addition, China has been exploring stem cells for the treatment of ALS very actively. In April 2012, China Medical Herald published an article titled Analysis Result of Umbilical Cord Mesenchymal Stem Cell Transplantation in the Treatment of Amyotrophic Lateral Sclerosis. The result of this clinical study showed that 99 cases of ALS patients' symptoms improved significantly after stem cell treatment which demonstrated that stem cell treatment for ALS is safe and effective.
On Morning News, a Chinese TV program on CCTV reported a headline reading: nerve stem cells made a breakthrough, ALS treatment appears to turn for the better.
Similarly Lin Guo, a Chinese patient, was diagnosed with ALS in March 1998. The doctor told him that he could only live for two years just as was the case with Stephen Hawking. By the end of the year the right side of his body had weakened. As the condition gradually worsened he could not stand nor walk. His limbs could not be lifted and he had increasing difficulty speaking. Then, after stem cell transplantation and comprehensive rehabilitation including massage and physical training, Guo's physical motor function improved significantly. His also lived to an extended period far longer than the prediction of the death by the doctor. This early example of successful treatment further shows the need to invest in stem cell treatment applications.
The comprehensive treatment method of nerve repair and nerve regulation is based on cell transplantation. Stem cells repair nerve cells using self-renewal, homing, repairing and other functions in order to change the functional condition of the effected nerve cells. At present, the efficiency is about 60% for the effective reversal for ALS patients and 80% for the functional improvement of paraplegia in patients.
With the continuous development of stem cell technology and breakthroughs in related technical fields, there will be more stem cell treatment technology and products applied to the clinical treatment of refractory diseases to benefit more patients in the future.