In a recent interview in the Beike Biotechnology headquarters in Shenzhen, Dr. Sean Hu shared his thoughts on the current situation of Beike and the field of cell therapy. He is not only the chairman of a major biotechnology enterprise, but also a scientist who is studying how to overcome death. He led the way in stem cell research, which is currently regarded as the most promising cutting-edge technology today, arousing debate and hope around the world. But his path to finding cures for chronic conditions is destined to be full of ups and downs.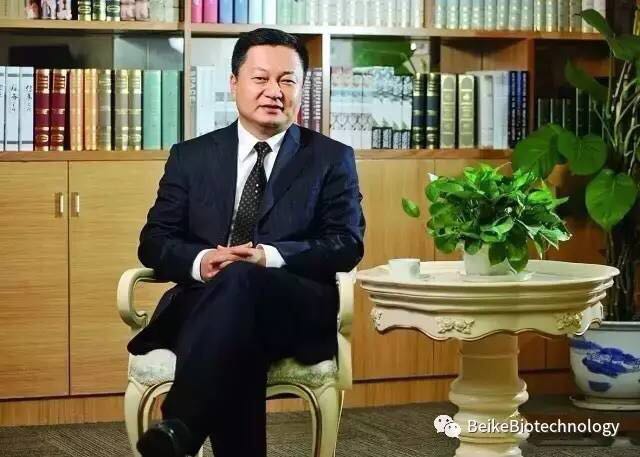 "Looking for the cutting edge of stem cell science? Instead of Stanford or Cambridge or Singapore, consider Shenzhen. That's where Chinese entrepreneur Sean Hu has set up one of the most radical businesses in the field." This quote from
a 2006 Bloomberg Business Week article
once evaluated Beike's impact on stem cell research field.
Sean Hu is not only a doctor of biochemistry and molecular biology from the University of Gothenburg and Chalmers University of Technology, from the first batch of experts of the "Thousand Talents Program" of China, but also the Chairman of Shenzhen Beike Biotechnology Co., Ltd, and the director of Shenzhen Beike Cell Engineering Institute. On June 2011, he initiated the establishment of Chinese national stem cell and regenerative medicine industry technology innovation strategic alliance and was elected as the first vice Chairman of the union. In 2012, he was invited to initiate the preparation of the Boao Forum for Asia World Life Science Forum. Additionally, in March 2014, he was invited to visit Germany with Chinese president Xi Jinping.
Dr. Hu noted, "Our way of life and ecological way have been changed by the Internet; big data and cloud storage form the latest round of the IT revolution. Artificial intelligence has made data storage, transmission, and collection speed greatly improved, speeds of scientific and social progress are experiencing an exponential leap. Big changes which need millenniums, centuries, or decades to complete are going to be achieved in just a few years. A new round of technological revolution can be found within understanding the gene, which would change our human health model. Google scientists have announced that human beings could achieve eternal life by 2029. Biologists may be conservative, but we could see that through life sciences combined with IT technology, the length of the human life is likely to go beyond our imagination in the near future."
But this is not simply the dreams of a mad scientist.Sean Hu and his team at Beike Biotechnology have been advancing cell therapy and been ahead of the game for over ten years.
Cell Banking
On March 16, 2017, Beike and Shenzhen Maternal and Child Health Hospital set up a biological sample library in Shenzhen, which was going to be the first maternal sample cell bank under the Shenzhen integrated cell bank. Dr. Hu commented that the "Shenzhen Integrated Cell Bank is the foundation for the development of the life and health industry in Shenzhen, which was established in 2015. It mainly collects and stores stem cells from various sources, which are derived from umbilical cord, placenta, fat, deciduous teeth, or from the adult peripheral blood. In addition to serving scientific research, the Shenzhen integrated cell bank could improve the health of the population, delaying illness, or eliminating diseases altogether. For example, storing your umbilical cord blood and young immune cells could help you or others when there is a disease or health needs in the future."
"Through genetic testing, American actress Angelina Jolie knew that she was going to have breast cancer and ovarian cancer, so she removed her breast and ovaries preemptively." Dr. Hu elaborated, "Angelina's example belongs to the narrow sense of precision medicine. The significance of the broad sense of precision medicine is that by collecting and analyzing a large number of biological samples, we could predict a class of genes which would lead to what kind of disease. We could, like Angelina Jolie, through genetic testing, predict what kind of disease we are going to suffer in the future. We could then also use cell therapy to rejuvenate our health through the young stem cells we have stored in the cell bank."
"People think health is the main goal of life today. The concept of health is not only meaning the diagnosis and treatment of disease, but also includes accurate prediction and prevention of future diseases, which should begin from the first day of life until the end. Because of this, precision medical care was included in the Chinese "Healthy China" national strategy."
Decryption of the Stem Cell
"A Gecko's tail can regenerate after being cut off in nature. Could human beings also have this ability? Scientists John Gurdon and Shinya Yamanaka, who won the Nobel Prize in 2012, brought hope to this wonderful vision. The two scientists had been awarded the Nobel Prize due to studying nuclear reprogramming and inducing pluripotent stem cells."
One could sense Dr. Hu's passion when speaking of stem cells. He explained, "stem cells are a class of cells with self-renewal ability and are capable of differentiating into various terminal somatic cells. In simple terms, the body is composed of 400 trillion to 600 trillion cells, a total of more than 230 kinds, which can be divided into jut two categories. One type is commonly referred to as functional cells, and the other type of cells have the ability of self-renewal with unlimited differentiation ability. These younger functional cells renew instead of undergoing apoptosis or decay. These cells are stem cells."
"Human tissue and organs become worn, damaged, age, and commonly lead to a series of diseases, especially refractory diseases. These diseases would be treated through stem cell regenerative medicine and technology in the future. Traditional drugs often seem helpless in the face of some complex diseases, but stem cells in diabetes, Parkinson's syndrome, Alzheimer's disease, liver fibrosis, leukemia, anti-aging and other fields have been proven to have a significant effect. Now, regenerative medicine is recognized as a third medical route in addition to pharmaceutical drugs and surgery. These unique features of stem cells have made them to be the basis of 21st century regenerative medicine, and are at the forefront of the current technology revolution."
Since being founded in 2005, Beike has become the industry leader of independent innovation in the clinical transformation of cell therapy.
An Experienced Leader
In 2008, relying on a solid R&D and comprehensive independent innovation, Beike began to be an outstanding figure in the international biotechnology arena. At that time, overseas media began regarding Beike as the leader of the stem cell industry, noting that they are in the "top 10 of Chinese companies challenging the West." The Washington Post, taking Beike as an example, urged the United States to speed up the development of the biotech industry and raised the question "whether the US industry would lose the stem cell race in this round?" At the same time, the Shenzhen Municipal Government positioned Beike as a "high-tech enterprise of urban strategic industry," and Beike's headquarters and international stem cell research and development base were completed.
The Shenzhen government's full political and financial support bolstered Dr. Hu's vision. In August 2010, Chinese Premier Wen Jiabao of the State Council, after visiting Beike's headquarters, noted that "Beike's stem cell research, the forefront of biotechnology, is the most promising area beyond the Western developed countries. I hope you can fulfill this important duty of leading the world in a large scientific field!"
While Dr. Hu was full of hope for the future, things were not going fully as planned. Due to stem cell therapy and other cell technology market chaos, coupled with clinical transformation policy regulation changes, the Beike and even the entire stem cell technology industry encountered a downturn. For Dr. Hu, this felt like a five year ice-age, with little room for growth.
In that period, Beike began to look for new vitality. With the help of the Shenzhen Municipal Government, Beike's headquarters and international stem cell research and development base were established, and a transitional platform-based enterprise was founded. From the past production of cell preparation to the service-oriented cell preparation, Beike built the world's first "double-platform," which attracted the world's biotechnology talent and investment – once again gaining steam in the market. From this, a series of gratifying achievements came to fruition.The Shenzhen integrated cell bank and the Shenzhen (Beike) regional cell preparation center officially opened in 2015 just in time for the Shenzhen International BT leaders summit.
In the United States, Beike was the first first foreign institute promoted to all federal funding projects by the NIH (US National Institutes of Health) and NCI (National Cancer Center). This means the Beike's transformation platform can be funded within the United States and abroad.
In 2016, Beike participated in the global science program – the United States' "Cancer Moon Shot 2020," which was a big human health science program following the human genome.
A few days before joining the program, Beike and a Japanese robot company reached a cooperation agreement, which was going to research and develop cell preparation robotics to improve cell production efficiency.
A Dream to Change the World
Dr. Hu concluded, "due to Shenzhen's open research and market environment, Beike was famous in the world for creating medical miracles though independent research. But today, the international reputation of Beike is derived from the Shenzhen Municipal Government and Beike's commitment to building innovation, entrepreneurship, and engineering facilities for the biotechnology industry."
The Shenzhen integrated cell bank and Shenzhen (Beike) regional cell preparation center, is an innovative model of Beike's cell therapy industrial development. Dr. Hu's plan uses the integrated cell library plus a regional cell preparation center tied together with the internet of things as a method to build a cell treatment network, which not only meets clinical needs in a timely manner, but also takes care of production scale and the interests of technology providers. The goal is to provide an innovative public technology platform and infrastructure for the clinical transformation of cell therapy, and ultimately forming an individualized cell therapy service platform and national network. This public clinical transformation service platform of individualized cell therapy would not only build regulatory cell preparation centers for most hospitals and patients by establishing a service system, but wuld be the standard of efficiency, open to all hospitals, upstream companies, any individual cells treatment technology research teams, founders of biotechnology companies and technology inventor individuals who wish to start their own business on the platform.
"Building a platform makes it is easy to promote individualized cell therapy." According to Dr. Hu's idea, the integrated cell library and regional cell preparation center implementation follows in the footsteps of other tech giants. As Alibaba opened up Taobao, making shops and shopping easier and how Tencent developed WeChat, making communication simple and smooth, Dr. Hu hopes that people can get low-cost, high-quality health services when they need them through the biotechnology revolution. Each person would be both a beneficiary and a contributor to this market model, accelerating the concept and making the most impact. A tiny cell donation from each person could lead to a world of different treatment options for everyone.
Scientific and technological innovation to benefit the general public's health – that is the dream which Dr. Sean Hu has been pursuing.
A Long Way to Go
"Beike has been leading the way, but also experienced hardships on this path." He added, "Who could think of a more exciting scientific issue than to conquer death? And what is a more promising market than human health? This is a lucky time, for I had the opportunity and ability to participate in this arena. I really feel a sense of accomplishment to have come this far."
"But there are still some bottlenecks and restrictions in the development of the entire cell industry, although the policies will gradually clear," Dr. HU stated. "This is not a technical issue, but a lag in regulatory policy, lack of technical standards and industry standards. As a new technology, cell therapy is different from chemical drugs, and we need to establish a new approval channel to speed up the new technology and new drug approval process to speed up the industrialization of cell therapy in China and the world."
"At present, there are more than 3,000 3A grade hospitals in China, but do we need to build more than 3,000 GMP level cell preparation laboratories?" The Dr. thinks there is no need for every hospital to set up a costly cell preparation room and a cell bank in a region or a city. Maybe one GMP standard cell preparation center and one stem cell bank might meet the needs of a region's clinical treatments. "The scale effects would prevent any experience curve issues and the decline in operating costs could revolutionize human health."
"New things inevitably encounter difficulties." In Dr. Hu's view, "The biggest need in an innovation is not how much money to invest, but but what dream to invest in."
Dr. Sean Hu knows he is dreaming a big dream, but he is on his way and believes that personalized cell therapy is the key.