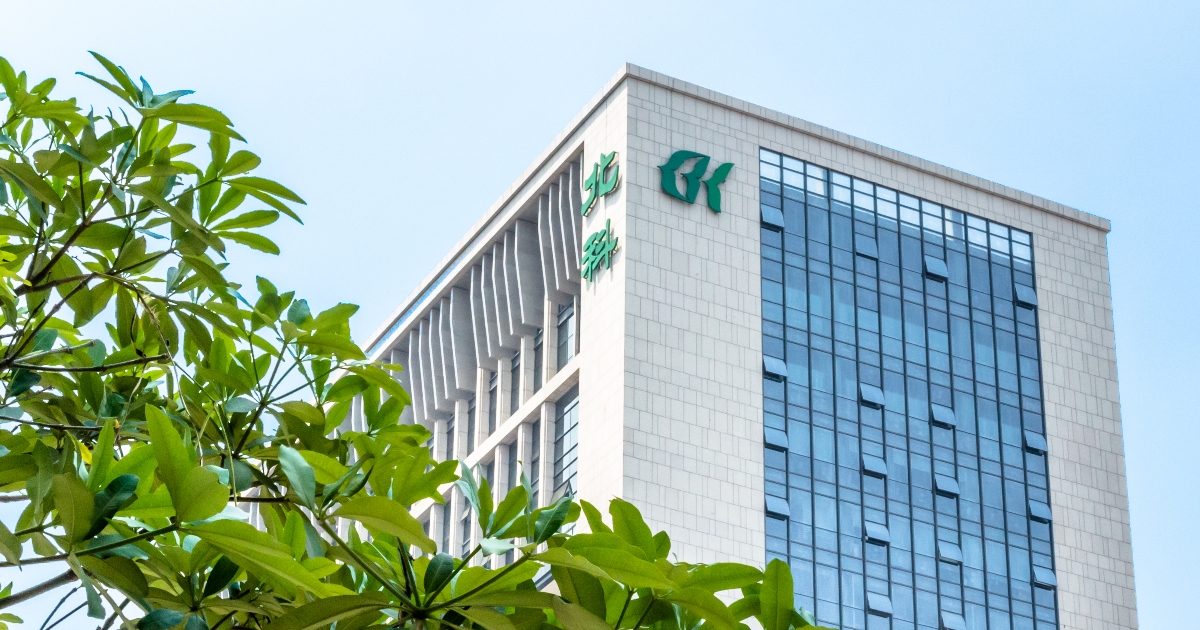 On April 1st, 2015, Beike Biotechnology Co., Ltd. officially opened their new headquarters in Shenzhen's hi-technology park. The new building, simply named Beike Building (北科大厦), contains all of Beike's professional staff as well as our top of the line GMP standard laboratories.
The new facility is located at the south end of Shenzhen's Hi-Technology Park which includes many respected Chinese and foreign technology companies including Microsoft, Mindray, Tencent, and ZTE. Beike's administrative offices occupy the 16th and 17th floors, while the 18th and 19th are reserved for the laboratory. The real-estate for this development came with support from Shenzhen City Hall in an ongoing effort to boost China's Hi-technology industries.
R&D Lab Introduction
Size: ~ 800 square meters
Room arrangement: One room for cleaning and autoclaving, two biochemical and molecular biology labs, one flow cytometry room, one immunohistochemistry room, a cell culture center which contains two culture rooms, a vivarium house with separated rooms for animal feeding and experiments.
Experiments & Facilities based on rooms
1. Biochemical and molecular biology labs
PCR (three PCR machines), RT-PCR (one RT-PCR machine), electrophoresis, gene cloning (two laminar flow hoods), DNA/RNA extraction (5 centrifuges), ELISA (one plate reader), western blot, southern blot and other relative experiments for cell characterization.
2. Flow cytometry room
Two flow cytometers, one is BD FACSCalibur and the other is BD FACSAria. Phenotypical test and sorting of stem cells and immunological cells are implemented as well as analyses for cell cycle and apoptosis.
3. Immunohistochemistry
Pathological tissue section of animal models is prepared here relying on the Leika pathological tissue analyzing system. Experiments like regular immunohistochemistry analysis of cell and tissue and immunofluroscence staining are conducted.
4. Cell culture center
The cell culture center of Beike Biotechnology was built strictly under the GMP requirements of both the CFDA and FDA. The GMP certificate has been obtained and our colleagues abide by those rules in their routine work and operations.
We have acquired techniques for the collection, separation and culturing of various stem cells derived from the umbilical cord, umbilical cord blood, adipose tissues, dental pulp, menstrual blood, human placenta, and endometria. Immunological cells like cytokine induced cells, T cells, natural killer cells, dendritic cells are also cultured in our daily work. No human embryonic stem cell experiments or culturing are conducted at Beike Biotechnology laboratories.
There are two cell culture rooms in the center. Each contains two (2) centrifuges, six (6) CO2 incubators, and two (2) biosafety hoods and one (1) laminar flow hood which altogether are available for 6 people to operate at the same time.
5. Vivarium house
There is an SPF-level vivarium house inside the building with a ventilation system of its own. Within the house, there are two animal feeding rooms for daily model animal feeding, two operation rooms where animal anatomy is conducted if necessary as well as miscellaneous other rooms. It is capable of raising 1,500 mice or 500 rats.
The main works done in Beike Biotechnology labs are to ensure the efficacy and biosafety of pre-clinical studies of new stem cell and immunological cell therapies or products to provide fundamental, pre-clinical and clinical proof for their further development, as well as stem cell storage. With this new facility Beike Biotechnology is looking forward to a successful 2015 with a renewed focus on treating chronic conditions.