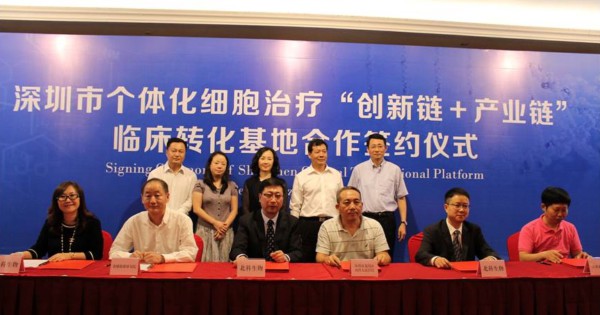 Beike Biotechnology, the Shenzhen local government, and various medical institutions attended a ceremony in late 2015 to mark their successful combined efforts to provide integrative, personalized cell therapy in 2016.
The signing, titled the "Shenzhen Clinical Translation Platform for Personalized Cell Therapy" was hosted by the Shenzhen Cell Bank and the Shenzhen Regional Cell Production Center, both subsidiaries of Beike Biotechnology Co., Ltd.
The Shenzhen Cell Bank and the Shenzhen Regional Cell Production Center are both currently housed in Beike Biotechnology's headquarters in Shenzhen's Hi-Tech Park. These new facilities will be the foundation for the development of a new model, approach and method to provide clear and transparent clinical translation of cell therapy for the world.
These facilities will be dedicated to developing clinical applications for regenerative medical techniques, clinical trials for various refractory diseases and comprehensive techniques to evaluate the therapeutic efficiency of cell therapy.
This clinical transformation base will achieve improvements and important breakthroughs in cell research and application. The transformation of cell therapy in Shenzhen will not only benefit the health of Shenzhen people but also of visitors to this new cell therapy capital.
Various municipal and district level medical institutions jointly signed a personalized cell therapy strategic partnership agreement with Beike and their Shenzhen Cell Bank and the Shenzhen Regional Cell Production Center. These facilities include five facilities of the Luohu Group Hospital group, Shenzhen Second People's Hospital, Shenzhen Maternity & Child Healthcare Hospital, Shenzhen Futian District People's Hospital, Shenzhen Longhua New District Central Hospital, Shenzhen Longgang District Traditional Chinese Medicine (TCM) Hospital, and Shenzhen Bao'an District Maternity & Child Healthcare Hospital.
More than 100 guests witnessed this significant moment, including the deputy Mayor of the People's Government of Shenzhen Municipality, Xu Anliang, leaders of the Municipal Development and Reform Commission, the Municipal Market and Quality Oversight Commission, the Municipal Public Health and Family Planning Commission, the Municipal Innovation of Science and Technology Commission, the Public Hospital Administration of Shenzhen Municipality and representatives of other medical institutions.
Dr. Xiang Hu, founder and president of Beike Biotechnology noted at the event, "Through joint cooperation and with the Shenzhen municipal government's support, we believe that important initiatives such as this will promote Shenzhen as the best individual city in the field of cell therapy within mainland China and even the world."
Related articles:
The Three Pillars of Cell Therapy
The Immunotherapy Revolution Is Under Way
Beike Biotech Acquires Rights to Immunotherapy ALT-803
Biotech Company Receives Application Approval from Chinese FDA
Beike Biotechnology Opens World's Largest Stem Cell Storage and Processing Facility